This is really Urgent:
MAGSR needs your help to care for 12 puppies that have broken with Parvo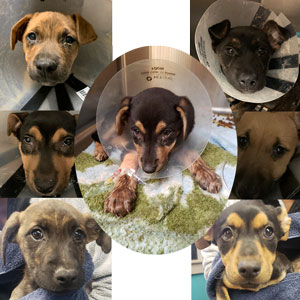 The Puppies have turned the corner, but we haven't. Sadly, we lost 3 of the Greek puppies to parvo but thanks to extensive emergency vetting both litters are on the mend. Our incredible donors have already given $7,000 to help defray the vetting costs.  We have vet bills for $10,000 and that doesn't begin to cover their puppy shots, spay/neuter and other associated costs.  If you can, please consider a donation to help us cover their expenses.
This past week MAGSR committed to two litters of shepherd mix puppies. The first set of five puppies - the Nature Puppies - came from a household that simply could not afford to keep them. Recognizing that these babies would have their best chance at loving forever homes if surrendered to a rescue, their owner signed them over to MAGSR. Yellowstone, Sequoia, Rocky, Alpine, and Aravalli arrived at one of MAGSR's vets acting like typical 12 week old babies - cute, cuddly, and endless fun. Having arrived unvaccinated and lacking some basic care, we got right to work getting these puppies everything they needed. Unfortunately, just as these puppies were finishing up their quarantine period, they broke with parvo. This horrible disease is far too common in puppies and often takes lives before they really have begun.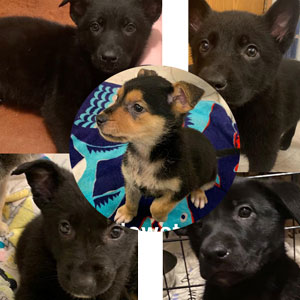 The day before the Nature puppies broke with parvo, a second set of seven shepherd mix puppies - the Greek Puppies - were confiscated from their owner who knew that parvo was on the property but allowed the puppies to remain on the premises knowing they would likely get sick, suffer and die. A plea went out for Alpha, Omega, Kappa, Chi, Tau, Delta, and Zeta for a rescue to step up and attempt to save these babies. Although it was very apparent that the litter was unvaccinated, malnourished, and parasitized, MAGSR knew these babies deserved every opportunity at life. Once in our care, all seven puppies were sent directly to veterinary hospitals as several members of the litter were already showing signs of parvo. The entire litter is now suffering from this horrible disease.
Both litters of puppies have been started on parvo protocols with the hope that they will be strong enough to fight for their lives. IV catheters have been placed, anti nausea meds are being administered, sugar levels are being monitored, and continuous care is being provided. As twelve parvo puppies require significant care, our babies have been spread out between three phenomenal vets who have been putting forth heroic efforts to save each precious life. MAGSR is doing everything in our power to save these puppies, but we are in desperate need of your help. Specialized support and continuous care is very expensive, MAGSR is spending around $3,000 a day to give the Nature and Greek puppies every opportunity to survive. Please consider donating to these babies so that we can continue to provide medical care, support, and opportunities to puppies and dogs whose circumstances make them unlikely to survive without outside help. 
Your decision to support MAGSR helps each dog you see on our website!
You can make a One-Time Donation or Contribute Every Month so MAGSR can help dogs like the Parvo Puppies. 
---
Thank you for your special gift of financial support.
If your employer matches charitable contributions, please ask them for the form to send to MAGSR so your gift can be matched, doubling your donation to MAGSR!
MAGSR is a 501(c)(3) non-profit charity, so your gifts are tax deductible.
If you are a Federal Employee!
Please help the dogs through CFC.

Donation Codes in Our Areas:
Conmbined Federal Campaign: 99138
Maryland Charities Campaign: 52-2191320
There are so many ways that you can help at MAGSR. Just like you, there is no doubt we'll have a number of unplanned needs come up at MAGSR over the next 12 months. It is your help through fostering, volunteering, and your regular financial support that will help others know the joys we have experienced through our fur families As you can imagine our biggest expenses are vet and boarding, so our biggest needs are foster homes and donations.
All your donations are tax deductible.