Welcome to the Mid-Atlantic German Shepherd Rescue!     
We are a non-profit rescue dedicated to German Shepherds and German Shepherd mixes. If you are looking to add a new family member to your loving home in the Mid-Atlantic area, please visit the Adoption page.
Over 3,600 adoptions since 1999!
Help us make that number much higher!
MAGSR is a 501(c)(3) non-profit charity, so your gifts are tax deductible.
If your employer matches charitable contributions, please ask them for the form to send to MAGSR so you gift can be matched, effectively doubling your donation.
Gov't Donation Codes in Our Area: Combined Federal Campaign: 99138, Maryland Charities Campaign: 52-2191320
---
Become a MAGSR Fund-Raiser,
Shop at Amazon!

You can find almost anything at Amazon.  By using this Amazon link, MAGSR receives an average 5% commission on your order. To benefit MAGSR, you must use this link every time you shop at Amazon. (If you have a shopping session started and haven't checked out yet, you can use this link to assign the session to MAGSR)
Your Amazon session won't mention MAGSR but we do get credit & it costs you nothing!
---
The calendar is printing now and will start shipping in November. Quantities are limited, so order now!
---
MAGSR Tammy Shiprak Memorial 50/50 Fall Raffle
Benefits Mid‐Atlantic German Shepherd Rescue
Last Updated: October 10, 2017
The Drawing will be held
Nov.11, 2017!
Last day to purchase tickets
(must be received by MAGSR) is Nov 4, 2017 
All money donated will be split 50/50
between the dogs and the winner.
Click here or email 50-50@MAGSR.org to purchase tickets.
$1 = 1 ticket / $5 = 6 tickets  
---
MAGSR's Dog of the Month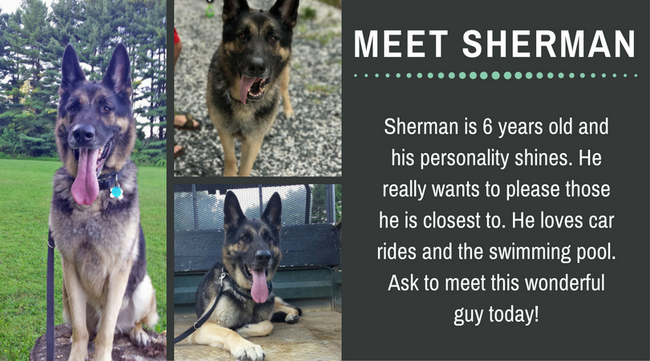 Please click to learn more about Sherman
---

MEET YOUR NEW BEST FRIEND!
If you can offer a loving, temporary home to one of these great dogs, please submit a Foster Application today! The FOSTER ME! tag identifies the dogs in need of a foster home
MAGSR Males Available for adoption
MAGSR Females Available for adoption
Non-MAGSR Dogs Available for Adoption
Recently Adopted MAGSR Dogs
Questions about an event? You can email events@MAGSR.org.
To open a full sized calendar, click on the month name in the calendar below.