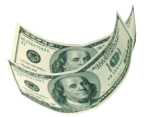 Think about it, if you just buy a smaller cup of coffee every morning for a month you could easily save $1 a day. With that money you could make all the difference in the world to the dogs at MAGSR.
 
Chomper's Legacy:
The MAGSR Medical Fund
In Memory of Yaeger, Hanna, Haggaris, Sunny, and Dylan
(Made possible in part by a very generous gift from Chomper's family)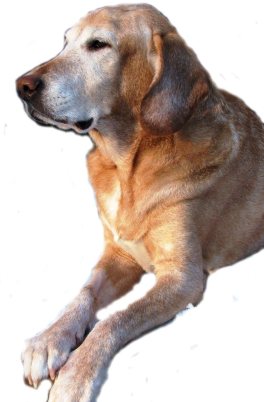 MAGSR's medical fund has been renamed in honor of a special rescue fur kid named Chomper.  Chomper, the handsome boy to the right,  was a yellow lab (mix?) rescued in Florida in 1995.  He was an intensely loved and adored member of his new family from the very first moment they all met.  Chomper's Legacy helps dent the senseless slaughter of dogs through negligence and irresponsibility and to help them find the love, kindness, caring and safety that he found with his very special family.  Chomper's Legacy pays special tribute to those dogs who have medical or other serious issues making them the "un-adoptable" dogs in shelters and thus the first to be put down.  Thanks to special supporters like Chomper's family, dogs like Houston & Persephone (see below) can be and are helped by MAGSR - often when no other rescue will even consider them - and despite leaving us before being adopted; they were loved.  Chomper has been watching over his family from the Rainbow Bridge and is so very proud of them for choosing this way to honor him.
Since losing Chomper on 2/13/05, his family has adopted two of MAGSR's wonderful dogs - Theo (aka Eros) and Sebastian (aka Rich).  They have established "Chomper's Legacy" in hopes of giving other families the true joy in life they have been given by having had their rescue dogs - Chomper, Theo, and Sebastian - part of their lives.  They also seek to help those most in need, like the MAGSR furkids on this page.
MAGSR is a 501(c)3. Your donation IS tax-deductable. Donation Receipts are sent by email.
Some of the MAGSR dogs that money from this fund have helped include: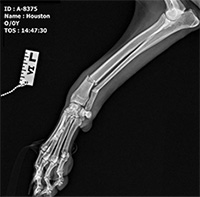 HOUSTON was picked up as a stray in a busy city. He was brought to a local shelter, where staff members immediately fell in love with this sweetheart. Although Houston quickly won over the hearts and minds of the shelter staff, they knew that he needed more care than they could provide.
MAGSR knew Houston deserved a family to call his own so we stepped in to help him. 
He was non weight bearing as the lower portion of his leg was hanging from the carpal area. Upon closer inspection, it was determined that Houston has a right distal radial ulna fracture. This needed to be repaired by one of our surgical specialists. Unfortunately, Houston had to wait a few weeks as he was also suffering from a rather serious upper respiratory infection. Although he received the additional attention and support he needed to recover from that, teh necessary healing time delayed his  surgery.  In addition to Houston's other medical needs, we also discovered that he was heartworm positive and started that expensive treatment.
As a result of his complicated medical situation, Houston spent months on crate rest, with weekly cast changes to give his leg a chance to heal. Then he was on crate rest for his heart worm treatment. This poor dog was only out to "do his business" then back to the crate.
MAGSR has spent thousands of dollars for his treatments. And now that his leg has healed, he needs weekly specialty care to rebuild muscle mass that was lost.
---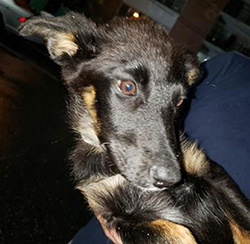 PERSEPHONE was picked up as a stray and brought to a local shelter. Upon arrival shelter staff knew something was very wrong. Persephone was vomiting and had bloody stool. Tests confirmed it was parvo. Recognizing that this virus kills countless dogs every year, parvo protocols were put into place, hoping that Persephone was a fighter. Although they took excellent care of Persephone, shelter staff knew that Persephone would be most successful if she was placed in a rescue where she could continue to get the care she needed and recuperate in a loving foster home. When we heard about Persephone's situation, our team immediately began putting plans into place to help this little one join the MAGSR family.
As a young girl, Persephone should have been busy playing, napping, and learning about the world around her.  Instead Persephone needed intensive care under one of our amazing veterinarians while she fought for her life. Positive for both parvo and pancreatitis, Persephone received around the clock supportive care so that her body had time to heal. This little girl has a lot of fight in her and with excellent veterinary care and lots of love from MAGSR, she was able to win her battle. 
Caring for a pup with parvo is very expensive. However, we knew that Persephone was beyond worth the cost. 
---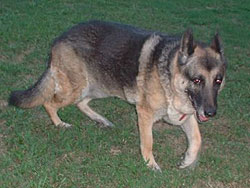 SUNNY was with us just short of 3 years.  She came into MAGSR at a very old age, about 11 years, and not only had she led a seriously detached life from having been tied outside her entire life, where she was without human love, leaving her severely withdrawn, but she turned out to be heartworm positive as well.  Her fosters took her in anyway, knowing she would likely never leave, and treated her as one of their own.  After recuperating from heartworm, slowly, Sunny began to come around and learned to love the good life, with lots of pats, companionship, and endless love.  Due to her advanced age, Sunny started showing signs of arthritis, and although on daily medication, it was this disease that eventually took away Sunny's ability to live a normal life.  Almost three years and lots of love later, on February 5, 2004, Sunny's body gave out on her for the last time. She went totally limp, unable to move any of her legs or stand, even with her foster parents' support. We knew it was time. Sadly, her eyes still had life and love and energy, but her body couldn't help her anymore, and her high quality of life had ended. She was put to sleep on her soft bed and in the arms of her foster; Sunny went very peacefully, in the only home she had only known love in. She will now be able to run free without the restriction of her weak legs, and will always be remembered and loved and a huge part of our family. We will miss her greatly, especially her best friend Aspen (former MAGSR dog), who has been by her side always. Aspen always made sure Sunny was part of her life, and laid beside her when she slept. Sunny Girl, we love you. Thanks for all the memories. You bring a smile to everyone who had the pleasure of knowing you. Run free and stay happy.
---
HAGGARIS came to us December 8, 2003, from a local shelter after being turned in by his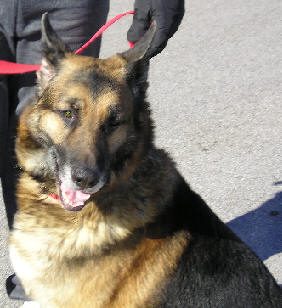 family.  Haggaris was a huge boy with lots of love and companionship for his foster and his foster siblings.  Haggaris loved to hang out with his foster siblings and got rather excited at just the site of other dogs.  He also had a penchant for opening doors - using the door knob!  Haggaris began obedience training with his foster while waiting for his forever home shortly after coming to MAGSR.  Haggaris despite being huge and an older dog, (both lessen a dog's chances of a fast adoption), soon met his new family during the week.  They fell in love and agreed to adopt Haggaris but wanted to prepare their house and arrange for some time off from work to spend with him before bringing him home on Saturday.  Two days before moving to his new forever home, Haggaris collapsed at his foster's home and  was taken to the emergency veterinarian with symptoms of what we thought was bloat. That turned out not to be the case, however, after working on him for several hours, Haggaris' condition continued to worsen. He was unable to walk, had difficulty breathing on his own, had over 600 cc's of infection-filled fluid drained from his chest, maintained a body temperature of over 108 degrees (the highest the thermometer reads), and began having massive seizures. He was in a lot of pain and the vets could do no more to help him. We made the agonizing decision to let Haggaris leave this world pain-free. Haggaris was two days away from going into his 'forever' home. We still do not know what happened to Haggaris but will forever remember him as the silly dog who loved his people so much he learned to open doors to be nearer to them!
A big beautiful red haired guy who was in his foster home which was probably the only place he knew love. Up until his last day was playing with his foster brother Sully, and foster sister Harley as if nothing was wrong. Haggaris was adopted by his foster David, and will be waiting for him on the other side.
---

HANNA came to us October 18, 2002, from a shelter on the Eastern Shore.  When taken to our vet it was discovered that she had a heart murmur, which led us to the Cardiologist.  The Ultra Sound and EKG showed she had a serious, inoperable, heart condition, and was in very bad shape.  Given a short life expectancy of only five years, and advised that she would fall victim to sudden death, Hanna went home to her foster Ed (who also adopted her) to be loved.  We wanted Hanna to have a normal life, and to enjoy whatever time she had, which she did giving her new brother Deegan a hard time! We thought five years was just not long enough for this beautiful girl who had already been through so much, little did we know that it would be even shorter.  On December 21st, 2002, Hanna collapsed in her home and was rushed to the emergency vet, where she past away from sudden death.  We only had her with us for two short months, but she will hold a special part of our hearts forever.
---
YEAGER had started showing signs of not feeling well with GI up-set and weight loss.  After repeated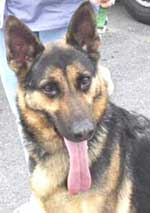 vet visits, and many test, nothing was found to be wrong other then stress colitis.  His energy level never changed and was always ready and willing to play ball(or stick, or water bowl, or snowball...!).  During the blizzard I received a call from kennel staff saying that something was wrong with Yeager.  While I was trying to get to him (due to the snow storm an hour trip now turned into three) I asked one of our vets to call the kennel to advise them what to do.  After arriving at the kennel I found one of the staff sitting on the lobby floor with Yeagar who just looked very tired.  Taking him out to the Jeep for yet another trip to the vet, and as weak as he was, he tried to go to the snow pile to play in the snow he loved so much.  After telling him "not now boy, you can play in the snow when you feel a little better", we drove off.  When arriving at the vet, and getting him out, he collapsed and had to be carried.  After being taken into the emergency treatment area it was discovered that his temperature was 109-110.  Packed in ice, IV fluids, blood test, drugs, and x-rays were started.  His temp came down only to 105.8 and the vet said "at least he's back among the living for now".  Twenty minutes later Yeager lifted his head, took a breath, and past. It was determined through the autopsy that his stomach had ruptured, emptying the contents into his abdomen causing an infection. We, along with the vet are still not sure he did not have cancer. Yeager touched our hearts through his silly antics, and his personality, and will forever be remembered with love.
---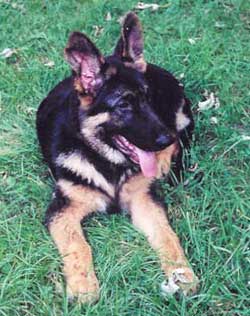 DYLAN came to our rescue at the age of 4 months. A breeder who could not sell him due to health issues felt Dylan could not be placed, so she was planning to euthanize him. We talked the breeder into giving Dylan to the rescue and letting us give him a chance in life. Dylan came to live as a foster with Tricia and Joe. They spent many days going to veterinarians and specialists to see if his health problems could be solved. After consulting with many doctors, a soft tissue surgeon performed surgery on him and determined that the ureter leading from his bladder was 3 times the normal size. This was causing him to dribble urine constantly since his body could not hold it back naturally. This specialist had never encountered an abnormality like this, so his procedure was experimental, but our only choice. He reduced the size of the ureter and closed him up and hoped for the best. Dylan recovered from the surgery well, although he still continued to dribble. To work with this problem, we changed his bed daily, and he wore a diaper when free in the house. Otherwise, he continued living a happy, puppy life with his foster brothers and sisters. He had become a best friend with Sage, one of the foster's dogs that had been adopted from MAGSR the previous year. Sage and Dylan played non-stop every day of his life. They were never more than one foot apart, sharing all the toys and sticks together, and spending hours rolling in the yard taking turns as to which dog was on top. Then one beautiful Saturday afternoon, after a long fun day of playing in the yard, Dylan was brought in to relax and quiet down before his dinner. When we went to bring him his dinner, he had died suddenly. With no idea what had happened, we took him to the hospital to have an autopsy done. The cause of death was a very rare infliction called mesenteric torsion, which is where the intestines twist and stop the flow of oxygen and blood to the heart. The doctor's do not know what causes mesenteric torsion, and they say that when it happens, it is always a mystery and death is very sudden. Our hearts were broken. Dylan was the sweetest boy who had all the lust for life as all puppies do, and he lived happily with all his new brothers and sisters. We celebrate his life, and know that he had a great 11 months. Life is always too short, but the quality of life is what is important. Dylan had fun every day and was loved, and will always be remembered for the joy he brought into his foster's home. We miss you Dylan.
---
Sometimes MAGSR receives mail from caring people all around the world who are kind enough to share their stories with us about their own beloved dogs, triumphs as well as heartbreaks.  This is one such letter that touched our hearts and we wanted to share it with our readers.  Hopefully, with generous people out there like Virginia, all of our dogs will receive the care they so need and deserve!
To Whom It May Concern,

 

This donation to the Yeager and Dylan Memorial Fund is made in memory of Meiko and in honor of Titan. I have had, and still do have, a special needs dog. Meiko was my beautiful female Shepherd who passed away almost two years ago. I had her since she was a puppy. She had some treatable conditions like allergies and a thyroid condition, which were under control with medication, but then she was diagnosed with cancer when she was almost eleven. She was so special to me for so many reasons. She was there to watch my children grow and be there when my husband passed away. I miss her and love her to this day.

 

I adopted Titan from a kennel. He had mild hip dysphasis and could not be bred or shown. He was fifteen months old and about five years younger than Meiko. After some adjusting, the three of us became a "family". They were wonderful years. I never felt alone because they were always here for me. By the time Titan was two years old, he needed a total hip replacement. That was the beginning. When he was about five, the problems really started. He is eight now and has had three more operations and is on medication for the rest of his life. He has a very strong heart and spirit to survive everything he has had to endure. Just as with Meiko, Titan is very special to me and I love him so. He needs a lot of care, but he's worth every bit of it. All he wants is to be loved and that's easy.

 

I understand what is is to have special needs dogs. Mine have been fortunate to have the medical care that was required. I think the care your organization provides for the rescue dogs is wonderful. I hope this donation in honor of my dogs helps to give another dog a chance at a healthy life.

 

Sincerely,
Virginia Amoroso
Ballston Lake, NY