Samson was 9 years old and never treated well by his original owners. He was restricted to just one room in the house and was often at the vet being treated for diarrhea due to stress. As Samson became older and the kids in the house went off on their own, the owners decided to take him to the vet to be euthanized. The vet called and we said yes, we would take him into the rescue.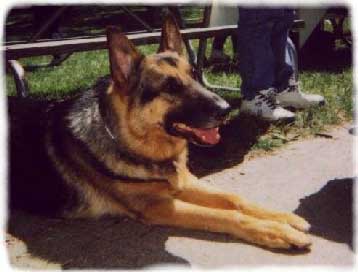 Samson was neutered and brought up to date on shots. At 127 lbs, he was going to be difficult to put into a foster home so he ended up going into a kennel. Meanwhile a wonderful person named Barbara called me because she was interested in adopting from MAGSR. After a lengthy conversation, I just knew I had to introduce her to Samson. 
Barbara and her husband Leon came out to the kennel and met Samson. He wasn't quite what she was looking for, but she offered to foster him which thrilled me. It only took a week for Barbara and Samson to fall in love, and she adopted him.
Immediately, Barbara enrolled Samson into obedience class. Samson was the oldest dog in the class but ended up with the top grade. Everyone who ever meets him just falls in love with him. But the best thing I ever heard was from my friend who said, "If only my husband looked at me the way Samson looks at Barbara." 
If I have learned nothing else, it's that these older dogs that come through rescue seem to truly understand and appreciate what we are doing for them. Older dogs are much more devoted and loving. They are through with the puppy stages--all they want is to be loved. They thank you everyday for caring.
Back to: Why Adopt an Adult Dog?