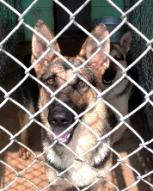 To help understand the 'pack' mentality which will make your dog a better family member, and you a better dog owner, it is strongly suggested that you read, Nancy Baer and Steve Duno's,
'LEADER OF THE PACK' 
If you have any problems with this application please email us here
or answer the questions below in the body of an email and send it to web@magsr.org
---
We are always looking for people to foster our dogs until we find them a forever home. Please use the form below to apply to be a foster. Your answers to these questions will help us match your needs with  the dogs in our program.  Thank you for your interest in our organization.
 Fosters must be 21 years of age or older.

Please apply only if you live in the Mid-Atlantic region. Sadly, it just isn't practical for us to foster dogs out of our area.
What exactly do you consider the mid-Atlantic area?
- MD: most of Maryland; if you live east of the Chesapeake Bay or west of Frederick, email us first before sending in your application.
- DE, PA, VA: If you live in DE, PA, or VA, please email us first before sending in your application and provide your county and zipcode.

 

Due to the time involved in processing applications please advise us if you are no longer interested in fostering, or would like to withdraw your application as soon as possible .  This will allow us to spend our time working on open applications to find foster and adoptive homes for our dogs.

 

Please do not consider adopting any of our dogs simply because they have a sad story behind them unless you are completely and totally committed to seeing them through their problems and adjustment.  Moving from place to place will only add stress to their lives and can cause more problems.  Dogs have feelings to, please think of theirs when making the decision to bring one into your home.  Our goal is to have this be the last move in their lives, their FOREVER home.

 

If you would prefer to mail in your application, please just print this page, fill out the fields as required and then mail back to us at: MAGSR, PO Box 353, Mt. Airy, MD 21771.  Please keep in mind that doing it this way will severely lengthen the amount of time needed to process your application.  It is MUCH faster and easier to apply online.
MAGSR reserves the right to decline any application, based on the information we receive or are given during the approval process, with no explanation to the applicant.  Information received during the approval process is considered confidential. 

Any Application not completed IN FULL will not be processed.  *Denotes required fields