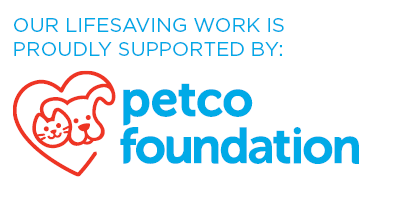 MAGSR is proudly supported by the Petco Foundation
Thank you to all our friends that make it possible for us to help these wonderful dogs. Without your support, it would be impossible for us to keep these dogs healthy and find loving homes for them all! 
MAGSR prides itself on being able to help the neediest of dogs who are often times overlooked by other rescues and shelter adopters who simply cannot afford the extra costs needed for the dog's care.  Because of our dedicated donors and staff of volunteers we never turn away a dog for medical reasons.  These accomplishments are thanks to...

---

A special thank you goes out to "Chomper's Family" for their beyond generous donation .  We thank them from the bottom of our hearts and promise to continue the fight to rescue as many dogs as possible.  With support like theirs we are sure to succeed for MANY dogs!

My beloved,

How I long
to hold you again.
My arms ache
to feel the weight of your head
as you rest in my embrace.
My hands long
to stroke your shiny hair.
My legs are chilled
without your soft warmth
snuggled between them.
My face is parched
without your wet kisses.


Memories of you haunt me
day in, day out.
Your scent lingers
in all your favorite places.
I walk the trails of our forest,
where we used to go, and see
glimpses of you around every turn.

You were utterly dependent
on my love.
When I came to you,
you would perk up and
dance with joy.
The joy and delight
you held in me has
changed me
forever.

Your sweet brown eyes
penetrated my soul.
You saw to the dark,
shameful
depths of me, yet
loved me still.

In my life,
I will have many more
loves like you.
But none
will ever take your place.

I miss you,
old boy.

- Chomper's Family
 

Our "Platinum Leash" Supporters

Those generous supporters who have given the rescue the foundation it greatly needs to continue with our work.  Without these supporters, the rescue would be hard-pressed to make it through the "lean" months when adoptions are slow and intake is high.  They have helped us help the most "needy" dogs by allowing us the financial stability we need to provide costly veterinarian services to treat conditions in our dogs such as cancer, hip dysplasia, and gunshot wounds.

Kenneth Pomerantz (2015, 2016)
Harold Beber (2015, 2016, 2017)
John C. Axel (2015)
Gary Zipper (2015, 2016, 2017, 2018, 2021)
Lisa Fitzpatrick and Heidi Whitesell  (2015, 2016, 2017, 2018, 2019, 2020, 2021)
The Petco Foundation (2016)
Reisterstown Boarding Kennel (2016)
Gabrielle D. Golec (2016)
BJs Wholesale Club (2017)
Loraine Dailey (2018) 
Diamond State German Shepherd Dog Club (2018)
Steven & Monique Fuhrmann (2018, 2019, 2020, 2021)
Patrick Kurpius (2019) 
Subsurface Technologies, Inc (New Windsor, MD) (2019) http://www.subtech98.com/ 
Hittman Family Foundation (2019, 2020)
Bradley Mitchell (2021)
Lucas Kaempfer Foundation, Inc (2020)
Randolph Lambert (2020)

---

Our "Gold Leash" Supporters

Those generous supporters who believe in our work and trust in the rescue enough to give more than we could ever expect.  They always seem to do so in those times when we wonder how we are going to make it keep working for our dogs.

Philippia Pullen (2015)
Suzanne Downs (2015, 2016)
Suzanne Underwald (2016)
Loraine Dailey (2017, 2019) 
Lucas Kaempfer Foundation, Inc (2017, 2018, 2019)
Yvonne Zecca Charitable Fund (2018)
Gary Zipper (2019, 2020)
Life4Animals Thrift Shop (2019)

Anne Arundel Pet Advisor LLC  (2019)

Mayer Baker (2019) 

James R. & Nancy O. Morris Foundation (2019)

Mark Rossetti (2021)

---

Our "Silver Leash" Supporters

Those extra caring donors who give above and beyond.  These donors usually have been touched in one way or another by one or many of our dogs, our volunteers, or our stories - or they simply appreciate the rescue's dedication.

Bennett C Abrams (2015)
Anastasiya 's Lent Box Project (2015)
David & Ruth Horak (2015)
John & Ellen Nagengast (2015)
Nancy Hammer (2015)
Roy P. Sachs (2015, 2016, 2017, 2018, 2019, 2020)
Suzanne Underwald (2015, 2017, 2018)
Aleen Moore (2015, 2016, 2018,2019)
Kelly Bass (2015)
Kevin J. Riley (2015)
Sean & Romina Roddy (2015)
James R. & Nancy O. Morris Foundation (2015, 2016, 2017,2018)

Elizabeth Yaeger (2016)

Jack Riley (2016)

Patrick Kurpius (2016)

Robert Pribyl (2016)

Joseph W. Kaempfer, Jr. (2016)

The Petco Foundation (2017)

Phyllis Parcella (2017, 2018, 2019)

Max & Neo Dog Gear (2017)

Impact Dog Crates (2017)

Stephen & Mary Preston (2017)

Arthur Mitchell (2017)

James E Ferguson (2017)

Stephen Van Campen (2017, 2018)

Nichole Welsh (2017)

Estelle A. Ross (2018)

Margaret de Cuevas (2019) 

Victoria Davis (2019)

Yvonne Zecca Charitable Fund (2019)  

Kathy Kempf (2019,2020, 2021) 

Maple Grove Australian Shepherds (2019) 

Leigh Oates (2019)

Terri Stowars (2019)

Ed Evans (2019)

Aparna Giare (2019)

Gail Phillips (2019)

Stephanie Runfola (2019, 2020) 

Norman Snyder (2019) 

Brandon Pinkard (2019)

Kelly Ervin (2019)

Nichole Kubeluis (2019)

Loraine Dailey (2020)

Life4Animals Thrift Shop (2020)

Jane Gaffney (2020)

Mark Rossetti (2020)

Amitava Chaudhury (2021)

Sally Lafond (2021)

---

Our "Bronze Leash" Supporters

Those generous, constant and faithful supporters throughout the entire calendar year.

Suzanne Downs (2015, 2016)
Gertrude Cannady (2015, 2016)
Julie Zrubek (2015, 2016, 2017, 2018, 2019)
Paul & Pamela Bowling (2016, 2017, 2018, 2019)

Susan Jane Evers (2015, 2016)

Suzanne Palmer (2015, 2016)

Richard Orndorff (2016)

William Teeter (2019)

Sue Wade (2019)

I'd Rather Be With My Dog (2019)

Marylinda Maddi (2019)

Bonny Wright (2019)

Thomas Crabtree (2019)

Gina LaMandre (2019)

Richard Felsenthal (2019)

Crista Lenk (2018)

Aparna Giare (2018)

Alicia Moore (2019)

Randolph Lambert (2019)

Richard & Philippia Pullen (2019)

Robert Gull (2019)

---

Our Veterinary Friends

Marriottsville Animal Hospital - 2020 Marriottsville Road, Suite A, Marriottsville, MD 21104 – 410-480-2222
Country Veterinary Hospital - 17591 Frederick Road • Mt Airy, MD 21771 - 301-829-0414
Paradise Animal Hospital - 6350 Fredrick Road, Catonsville, MD 21128 - 410-744-4224
Bayside Animal Hospital – 844 Ritchie Highway, Suite 102, Severna Park, MD 21146 – 410-544-4423
Caring Hands Animal Hospital – 8100 Arlington Blvd., Falls Church, VA 22042 – 703-942-8800
Main Street Veterinary Hospital – 11617 Reisterstown Road, Reisterstown, MD 21136 – 410-526-7500
Bennett Creek Animal Hospital – 22416 N. Frederick Road, Clarksburg, MD 20871 – 301-515-8800
Muddy Creek Animal Hospital - 5558 Muddy Creek Road, West River,MD 20778 - 410-867-0770
Olney Sandy Spring Veterinary Hospital - 1300 Olney Sandy Spring Road, Sandy Spring, MD 20860 - 301-774-9500
Mt Carmel Animal Hospital - 16904 York Rd, Monkton, MD 21111 - 410-343-0200
Waugh Chapel Animal Hospital - 2638 Brandermill Blvd, Gambrills, MD 21054 - 410-451-3700
Lake Shore Pet Hospital – 4193 Mountain Road, Pasadena, MD 21122 – 410-317-2028

Chadwell Animal Hospital, Abingdon, MD - 3004 Emmorton Road, Abingdon, MD 21009 - 443-512-8338

BluePearl Specialty & Emergency Vet Hospital – 1 Taft Court, Rockville, MD 20850 – 301-637-3228

Mid-Atlantic Animal Specialty Hospital (MASH) - 4135 Old Town Road, Suite B, Huntingtown, MD 20639 - 410-414-8250

Chesapeake Veterinary Referral Center (CVRC) - 808 Bestgate Rd, Annapolis, MD 21401 - 410-224-0121
Chesapeake Veterinary Surgical Specialists (CVSS) – 808 Bestgate Rd, Annapolis, MD 21401 - 410-224-0121

Elkridge Animal Hospital - 6270 Washington Blvd, Elkridge, MD 21075 - 410-379-6789

Midshore Veterinary Service - 602 Dutchmans Lane, Easton, MD 21601 - 410-820-9229

Spay Now – Laurel - 7401 Van Dusen Road, Laurel, MD 20707 - 301-483-7080

Spay Now – Grasonville - Pullman Crossing Suite 101, Grasonville, MD 21638 - 410-827-6464

Our Kennel Friends

Our Corporate Donors
Sloppy Kisses to
Our supporters, volunteers, sponsors, fosters, adopters and just plain well-wishers for all their care and support for our wonderful dogs!

And of course...

Our fellow rescue groups across the country who are working to save our beloved breed and other deserving animals. Our donors and repeat donors . . . we wouldn't be here without your support. Our sponsors who sometimes sponsor one dog for one month but often who sponsor one or multiple dogs for many months. The shelters who trust us with their dogs and work with us to save as many as possible. Our foster families who invest so much financially and emotionally and still have the heart to let the dog go to a new home - each time. Our adopters who care enough to give a "throw away" a chance and upon learning the value of that dog usually come back for a second, third, fourth . . .
 
Our volunteers who give endless time, energy, and devotion to these wonderful animals who ALL eventually find their forever homes...thanks in the biggest way to them!

Please email bookkeeper@magsr.org for more information on how to become a "leash supporter" today!