Help MAGSR care for our Senior, Medical, and Special Needs Dogs.
Your decision to support MAGSR helps each dog you see on our website!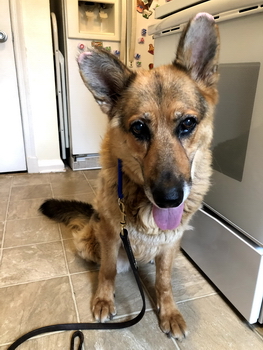 This is Maggie.
MAGSR had the opportunity to work with a local shelter in order to save the life of a senior lady in dire need of rescue. Maggie is a victim of cruelty and neglect. Broken down and depressed, Maggie had become lethargic and weak as she refused to eat while she waited for rescue. As shelter staff recognized that Maggie needed help, they worked with us to welcome her into the MAGSR family. Maggie's extremely emaciated body is covered in sores, scabs, and mats. Underneath all of this, it has been determined that she has been suffering from a skin infection. Her ears are filthy, infected, and injured from fly strikes. At this time she is very weak and will need to rebuild her muscles with the help of good nutrition and gradual exercise. 
Although Maggie has clearly endured great hardship and is in some pain, she is a gentle, loving soul. Wanting nothing more than head scratches and some company, she has quickly worked her way into the hearts and minds of volunteers in the rescue. Maggie will require significant support as she travels down the road to recovery. However, MAGSR is committed to providing Maggie with the life she deserves. Our dedicated volunteers will provide Maggie with every opportunity to grow healthy and strong so that she is ready for a safe and loving forever home. Please help us provide Maggie with the care and comfort she deserves and consider donating to her recovery.
Read the latest chapter on Maggie's journey toward recovery. 
You can make a One-Time Donation or Contribute Every Month so MAGSR can help dogs like Maggie.
---
Thank you for your special gift of financial support.
If your employer matches charitable contributions, please ask them for the form to send to MAGSR so your gift can be matched, doubling your donation to MAGSR!
MAGSR is a 501(c)(3) non-profit charity, so your gifts are tax deductible.
If you are a Federal Employee!
Please help the dogs through CFC.

Donation Codes in Our Areas:
Conmbined Federal Campaign: 99138
Maryland Charities Campaign: 52-2191320
There are so many ways that you can help at MAGSR. Just like you, there is no doubt we'll have a number of unplanned needs come up at MAGSR over the next 12 months. It is your help through fostering, volunteering, and your regular financial support that will help others know the joys we have experienced through our fur families As you can imagine our biggest expenses are vet and boarding, so our biggest needs are foster homes and donations.
All your donations are tax deductible.