Help MAGSR care for our Senior, Medical, and Special Needs Dogs.
Your decision to support MAGSR helps each dog you see on our website!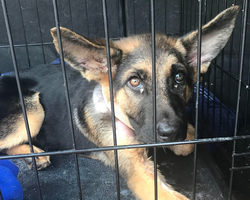 This is Valentina. This poor little angel needs our help!
Valentina was seized from a prior owner with what was thought was an embedded collar and a broken leg. Well, it turns out this poor baby did have a broken leg, but the wounds on her neck weren't caused by an embedded collar, but a dog attack! Her front leg is broken, and there are multiple bite wounds on her little neck. She was lucky animal control got to her when they did, she's smaller and underweight.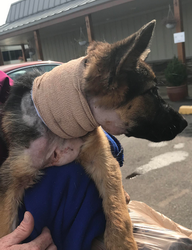 As soon as MAGSR heard about her, we knew we had to help her! 
Valentina is in the house!  On Saturday 9/26, Valentina arrived into MAGSR's care and is now the center of her foster family's love and attention. She's 3 months old, and so very sweet even after all she's been through! Stay tuned for more Valentina updates.
You can make a One-Time Donation or Contribute Every Month so MAGSR can help dogs like Valentina.
---
Thank you for your special gift of financial support.
If your employer matches charitable contributions, please ask them for the form to send to MAGSR so your gift can be matched, doubling your donation to MAGSR!
MAGSR is a 501(c)(3) non-profit charity, so your gifts are tax deductible.
If you are a Federal Employee!
Please help the dogs through CFC.

Donation Codes in Our Areas:
Conmbined Federal Campaign: 99138
Maryland Charities Campaign: 52-2191320
There are so many ways that you can help at MAGSR. Just like you, there is no doubt we'll have a number of unplanned needs come up at MAGSR over the next 12 months. It is your help through fostering, volunteering, and your regular financial support that will help others know the joys we have experienced through our fur families As you can imagine our biggest expenses are vet and boarding, so our biggest needs are foster homes and donations.
All your donations are tax deductible.