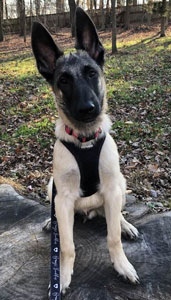 Rudolph joined the rescue with some unexpected medical needs that have required extra support.
Rudolph has begun seeing his regular vet to address typical puppy vetting needs as well as a specialist to address concerns about a preputial defect. Although it is unknown if this condition was congenital or trauma based, Rudolph needs a contrast study and preputial reconstruction in order to correct the defect and help him move forward.
When combining Rudolph's presurgical care, surgical consult, contrast study, and surgical reconstruction, his care will cost more than $4,000. Having been a very good puppy throughout this process, we know that Santa has Rudolph on the top of his "nice" list and is working on finding him the perfect forever family. With surgery scheduled in early December, Rudolph is hoping to be healed for the holidays. Rudolph's care is very expensive, but we know that this special guy is worth the cost. Please consider supporting Rudolph for the holidays and donate to his care. Not only will your support help us get this little lovebug the help that he needs to move forward, but it will also help us continue to support other dogs with medical needs.